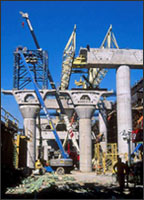 Using a corporate strategy that is based on continuously improving and diversifying the services available, TJ Engineering & Inspection has built a reputation for being more than just another Inspection Company.
In the civil construction market TJ has represented the Nova Scotia Department of Transportation during the fabrication and installation of over 8,000 tons of new highway bridges.
NACE Certified Inspectors are supplied during coating maintenance on existing structures.
TJ provides QA & Expediting services to the largest civil project in North America, the Central Artery "Big Dig" Tunnel Project. To date this has involved over 9,500 Tons of structural steel destined for Boston's underground freeway system.
Over the past two decades, TJ has developed a working relationship with an international network of engineering and inspection companies. Each company provides a complementary service in a different geographical area, or a unique technical capability. This network has been utilized during international projects and technology transfer programs.
The effectiveness of this network has been demonstrated in the successful implementation of rope access & lifting gear inspection programs that originated in the North Sea Oil & Gas Industry.
TJ Engineering & Inspection offshore activities have continued with significant participation in the Sable Project. During all three phases of the Tier I installations, TJ provided NDE personnel onboard the heavy lift vessel Saipem S7000. Senior QA/QC personnel were provided during the jacket fabrication in South Texas, and during the offshore hookup and commissioning.
Onshore, TJ performed the radiographic inspection for both installation contractors involved of the dual 8" pipeline running from the Goldboro Gas plant to the Fractionation plant.
TJ is not affiliated with any manufacturer, contractor, or supplier, and maintains total independence during the provision of these services.